CEC A Society under S.R. Act XXI of 1860, was established in May 2, 1994 to strengthen the need of computer education in Assam. A need for the distinct institution specializing in technical education was felt, that would be distinct from a few institutions which were until then responsible for providing computer education in the city. It was also recognized that the purely empirically-based professional computer education provided earlier, by some sub-experienced professionals would not meet the growing needs for training modern computer professionals. The institute was expected to cater to the need of providing training to the students who want to pursue a career in computer, fashion designing, textile / interior designing, journalism & other management courses. To fulfill these objectives, the institute was expected to operate as a resource, providing employment generation in the field of technical education. The institute was expected to run as a centre of excellence for studies in professional courses.
Progress so far :
Since then the new plant has blossomed into what the CEC group of institutions are today. Its head office is Started Fashion Designing, Interior, Airlines, Beautician courses under CEC -IMFD (Institute of Management & Fashion Designing). Its infrastructure is elaborate with abundant computers and other facilities like Generator, Uninterrupted Power supplies, inverter facilities, fully Air conditioned theory and practical labs and adequate staffs.
Today there are about 2500+ members of the CEC parivar who are engaged in various disciplines. They are assisted by other non technical staffs who together take account of the intellectual, infrastructure and administrative needs of the institute and constitute its community.The institute conducts 30 diploma and other courses and 26 short term courses. The institute so far trained over 5,00,000 students out of which more than 3,00,000 got jobs all over India and abroad and over 50000 students are self employed. One major dimension of the institute has been its regional role, and its teaching had attracted students from the entire Northeast region. The institute has also undertaken collaborative education by some franchisees. Currently there are over 180 CEC centres in the entire Northeast region. Now CEC is the only local largest network in education in this region.
CEC was started as a computer institute and in 1998 CEC started another wing as CEC-IMFD, the Institute of Management and Fashion Designing. The syllabus of CEC-IMFD includes Fashion Designing, Textile Designing, Airlines Management, Interior Designing etc. CEC IMFD offers 10% concession in any course to the female candidates as per norms of Ministry of HRD, Govt. of India.
Intellectual environment:
Since its inception the institute conducted various seminars and workshops, where a wide range of experts have participated. CEC had also organized various shows from where a large number of fashion designing students were benefited by participating in the mega events of National standard . In 2000 CEC organized Coca-Cola Mega Model Show, in 2001 North East Designer's Contest, 2003, Mr. & Mrs. Guwahati 2003 , Mr. & Mrs. Guwahati 2004 , Assam fashion Week '2005, Mr. & Mrs. Guwahati 2005 and a mega show at Bangkok, Thailand, titled "Parampara", "Assam Bangkok Fashion Show" in the month of February 2006. It was the first International Event to promote Eri, Muga & Silk from Assam to International level. CEC is also organizing a career fair titled as Career@choice to help the aspiring students of North East to choose a better career. For the benefit of the students CEC had published a book on Computer Fundamentals and Office management softwares and internet.

While significant progresses have been made in a number of directions, which has earned recognition from many quarters of the society and has put CEC on the map of the institutions devoted to the strengthening technical education for the society in the region , in recent years its intellectual culture has seemed to have gone to a steady incline. Incidentally such aggrandizement has occurred almost in tandem with the institution's rapid physical growth.The institution is maintaining its claim as a centre of excellence, and to push for recognition as a No.1 in the field of technical education.

CEC had undertook a substantial project for a state of the art IT & Management college in Guwahati. CEC had already procured a plot of land in Patharquarry area near Sixmile-Zoo Narengi Express way and completed a college building with all modern amenities for the students. This college is equipped with all modern technology to cater to the needs of the students of this region. Initiated as Hindustan College , an authorized learning centre of Sikkim Manipal University, and affiliated to prestigious Gauhati University with its own Hostel campus, own Bus service, playground, own indoor stadium, new advanced projection system in the classrooms, well equipped library, advanced computer labs with wi-fi networking and commercial & HR tie up with National & international companies as Clara International (Malaysia), Stanford University (Bankgok), Starex International School (New Delhi), SGI Group (New Delhi), Microsoft® (USA), Cosyne Inc. (USA), Down Town Enterprises Ltd. (Guwahati), this college is one of its kind in the entire North east region.
About the Founder
Write something about the people who make your business go or your philosophy behind customer service.
Why? Because people want to know who they're doing business with. It's a human thing.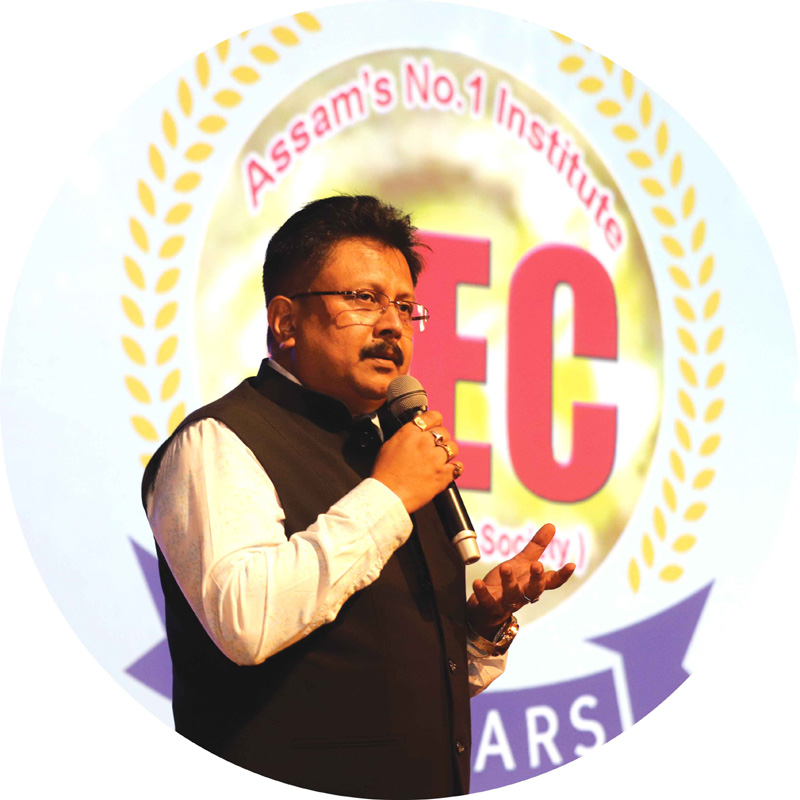 Dipankar Dutta
Founder President, CEC-Group of Institutions
It was in 1990, a young boy from Noonmati went to New Delhi for pursuing higher education in computer. He went to New Delhi not only with an aim to establish himself but also to make efforts to provide career opportunity to the younger generation.
Dipankar Dutta after completing his course successfully came back to his land. On May 2, 1994 he established an institute in the name of Computer Education Centre, well-known as CEC in Noonmati with only two computers. After completing sixteen glorious years now it has over 130 centres all over the Northeastern India. One major reason behind the success achieved with this short span of sixteen years is the individualized attention given to the students, thus enhancing their ability to acquire and synthesize knowledge in their chosen field of studies.
☆ ★ ☆